For the past half-century, the Philippines has run an ecological deficit, with its population demanding more renewable resources than the nation's own ecosystems can provide. Although per capita demand on the country's productive ecosystems has remained relatively stable, the Philippines' per capita biocapacity has decreased 44 percent, due to rapid population growth.
In addition to confronting increasing resource constraints, the Philippines is vulnerable to the compounding effects of climate change—including devastating typhoons—as a result of its location in the South Pacific. In 2011, the Philippine government and Global Footprint Network began a multi-phase initiative to analyze the country's resource constraints and identify opportunities for Ecological Footprint accounting to help shape policy-making.
"We refuse, as a nation, to accept a future where super typhoons like Haiyan become a way of life. We refuse to accept that running away from storms, evacuating our families, suffering the devastation and misery of having to count our dead, become a way of life. We simply refuse to."
Working closely with Philippines' Climate Change Commissioner Nadarev "Yeb" Saño, and with funding from the French Agency for Development for Phase I, Global Footprint Network published A Measure for Resilience in 2012. Providing the Philippines with a new framework to measure resilience, the report was endorsed by President Benigno Aquino III with a foreward in the report and formally adopted by the Cabinet Cluster on Climate Change Adaptation and Mitigation. The Cabinet works to ensure the integrity of the environment by promoting natural resource sustainability and climate change adaptation and mitigation strategies and measures.
In Phase II, Global Footprint Network worked with Secretary Neric Acosta, Presidential Adviser for Environmental Protection and General Manager of the Laguna Lake Development Authority, to scale its Philippines analysis to the sub-national level. The area studied was the Laguna Lake region, which encompasses Metro Manila and includes some of the country's most biologically productive land, and contributes more than 60 percent of the Philippines' Gross Domestic Product. Restoring Balance in Laguna Lake Region reported on the challenges of the region, including deforestation, urbanization, a growing biocapacity deficit and dependence on resources from outside the region. The 2013 report, funded by Australian government's development agency AusAid, launched in Manila and preceded a policy workshop and technical training seminar to build in-country capacity for the government to track, manage and benchmark its biocapacity and Ecological Footprint.
The Philippines is also in the process of finalizing its first National Land-Use Act, which will incorporate the Ecological Footprint as a national indicator. The legislation, a comprehensive national land-use policy, will protect areas from haphazard development and plan for the country's use and management of the country's physical resources.
Videos
Watch Yeb Saño, the Philippines Climate Change Commissioner, speak at the United Nations Climate Change Conference (COP 19) in Warsaw, Poland.
Reports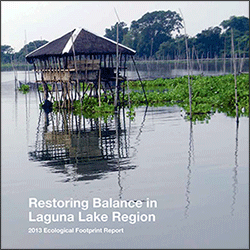 Restoring Balance in Laguna Lake Region (2013)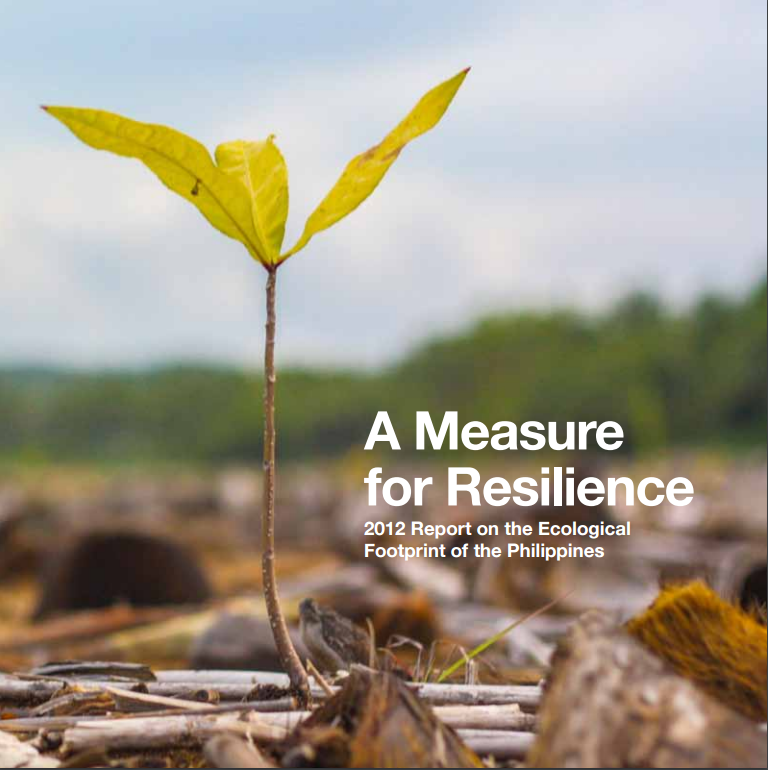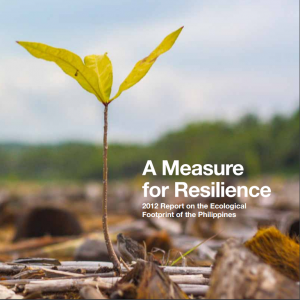 A Measure for Resilience (2012)
Additional Resources
Op-ed: Typhoon reminds us climate change is about people
San Francisco Chronicle, November 17, 2013
"Climate change is about people," Pati Poblete, Global Footprint Network Asia regional director, asserts while reflecting on the Philippines' Typhoon Haiyan. She emphasizes that the state of California can continue to effect positive change as a leader in climate protection and adaptation.