As a leading global economic power, China is undertaking a transformation to become an ecological civilization, a human civilization living in harmony with nature. Guizhou Province is at a crossroads that exemplifies the challenge of constructing an ecological civilization. As China's most biodiverse and mountainous province, it seeks to improve the well-being of its diverse people, while embodying President Xi Jinping's vision of an ecological civilization. Through an innovative collaboration with Switzerland, Guizhou aims to emulate Swiss successes in developing a resource-efficient, tourist-friendly, and prosperous economy.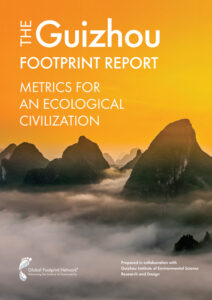 Our Guizhou Footprint Initiative will create a data-driven decision-making framework based on Global Footprint Network's Ecological Footprint accounting and the Miillennium Institute's scenario modeling. This approach will empower decision-makers to identify the most effective choices for planning Guizhou's future as a model ecological civilization. To do this, WWF-China, Guizhou Environmental Protection Bureau, Guizhou Academy of Environmental Science and Design, and Global Footprint Network are working together to:
Analyze Ecological Footprint and biocapacity data to produce a technical summary report of key results and figures.
Organize and host workshops with Guizhou government officials to interpret results and develop scenarios.
Explore future development and investment options based on workshop outcomes.
On July 8 at the EcoForum Global conference in Guizhou, Global Footprint Network launched "The Guizhou Footprint Report: Metrics for an Ecological Civilization," which documents the resource security landscape of China and Guizhou.
Key findings of the report that highlight the challenges that Guizhou is facing include:
With a per capita annual income of 18,700 yuan (2,852 US dollars) and Ecological Footprint of 1.72 global hectares (gha) per capita in 2012, Guizhou has the fifth lowest per capita income among China's provinces and the sixth lowest per capita Ecological Footprint. The Ecological Footprint averages 3.4 global hectares per person in China and 5.8 global hectares per person in Switzerland. An updated calculation for the report indicates Guizhou's Ecological Footprint has grown to 1.98 gha per capita.
In Guizhou, 51% of the Footprint comes from private and government sector investment in lasting assets while the remaining 49% of the Footprint comes from household consumption, which includes food, housing, mobility, and goods and services. In China, 47% of the Footprint comes from private and government sector investment while the remaining 53% comes from household consumption. By contrast, in Switzerland, 29% of the Footprint comes from private investment and 71% comes from household consumption.
Guizhou's score on the U.N. Human Development Index (HDI), which measures human well-being, was calculated to be 0.62, which is below the goal of 0.7 for high development and below the average in China, at 0.73.
Ecological Footprint of China's Provinces (2012)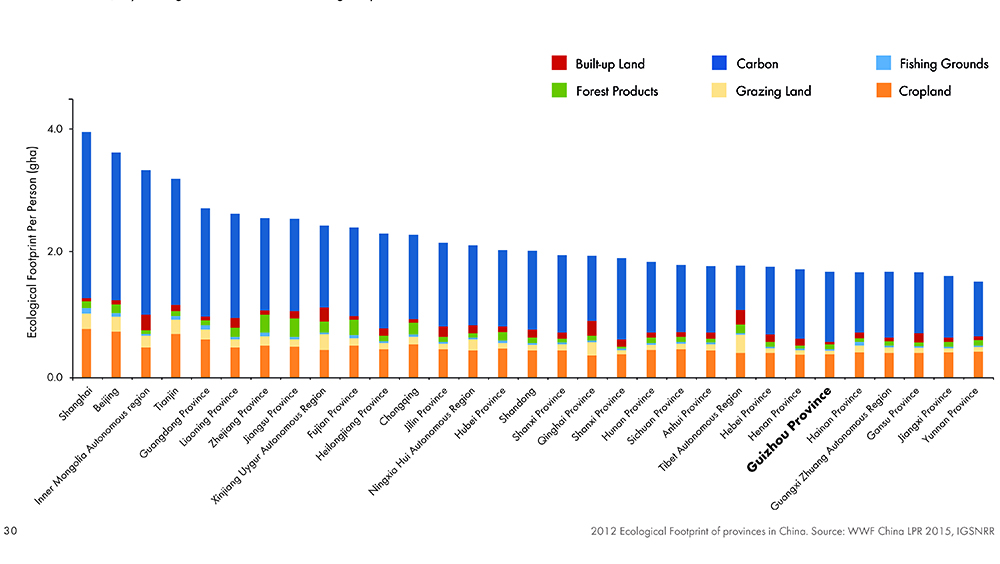 Download the Guizhou Footprint Report in English or in Chinese. A two-page summary of the report is also available in Chinese.
This project was sponsored by the International Cooperation Agency of Switzerland and the Province of Guizhou.
Learn more about our partners.