The Mediterranean consumes 70 per cent more fish than the global average and nearly all (93 per cent) Mediterranean fish stocks are over-fished. Global Footprint Network is collaborating with WWF's Marine Initiative and other partners to encourage sustainable small-scale fishing in the Mediterranean. The project supports MAVA Foundation's efforts to reduce fishing pressure, specifically on fish species near the top of the food web, in the Mediterranean through increased consumer awareness. Global Footprint Network will develop and provide tools to help consumers make informed decisions at the fish market. This will help consumers understand how their choice of fish contributes to their Ecological Footprint while supporting local small-scale fishing communities and the overall health of the marine environment.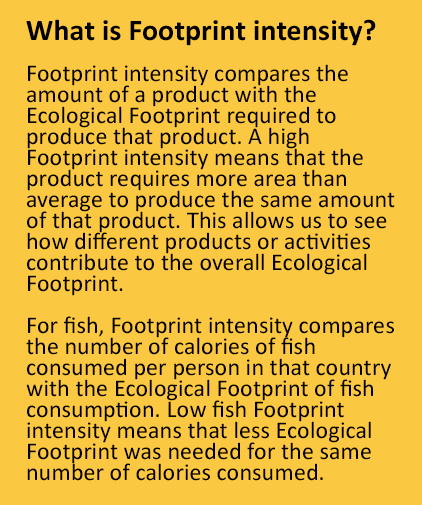 For all Mediterranean countries, we will illustrate the share of fish consumption as a portion of the overall Ecological Footprint. Additionally, we will compare the contribution of calories from fish in the country's diet to their Ecological Footprint (we call this "fish Footprint intensity"). For three pilot sites in Croatia, Turkey, and Italy, we will identify the most commonly consumed fish species and create groups of alternative fish species that are lower on the food web and are currently caught by small-scale fisheries. Global Footprint Network's goal is to compare the potential Footprint reduction achievable from encouraging consumers to diversify the fish they eat and reduced overall fish consumption.
Fish Footprint Calculations
Data collected from fisherman at the pilot sites for this project will improve how Global Footprint Network calculates the Ecological Footprint of fisheries. Rather than focusing on just the quantity of fish caught, we will incorporate a variety of factors that affect the Ecological Footprint, such as labor, boat size, gear type, and unintended species caught.
The findings of this project will be available through a new Fish Footprint Calculator that will be linked to Global Footprint Network's current Ecological Footprint Calculator. In doing so, we hope to spread the message that the Fishing Ecological Footprint is one of both individual and community responsibility. The intent is to empower individuals to act together to impact the future of their region and livelihoods in a way that is scientifically measurable. Individuals will be able to assess how their behavior shapes community impact, and how communities then shape the regional and global Ecological Footprint. Along with our partners in the region, we will also use this data to support the broader MAVA strategy through the integration of our data into partner-led activities that help retailers, restaurants, tourists, and residents understand their contribution to overfishing and to influence their purchasing, distribution, and consumption behaviors.
This is a joint project with WWF and the MAVA Foundation.