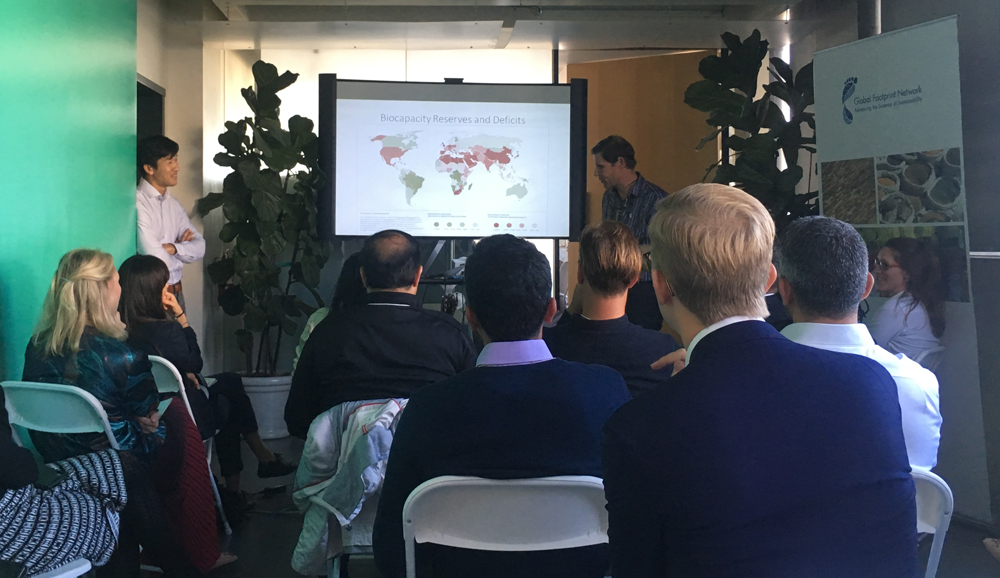 Free public transportation, taxes on consumption, fossil-fuel independent infrastructure, and preservation of forests and nature as a victory of the commons, fueled lively conversations with 20 Young Global Leaders this month at a workshop in Global Footprint Network's Oakland offices. The "insight expedition" about the Ecological Footprint and global sustainability was a fitting side event to the World Economic Forum's Young Global Leaders and Alumni Annual Summit that took place in San Francisco. This year's theme? Co-Creating a Sustainable Future.
Our 20 guests hailed from an almost equal number of countries. Discussions about their personal Ecological Footprint, systems change, and suggestions for policy action, were made even richer by the diversity of their experiences as professionals from diverse sectors, including impact investing and private financial services, civic service, corporate sustainability, and even wildlife conservation.
The central message we shared with them was simple: responsible leadership needs to address ecological limits. In the past, communities, nations, firms, and other entities gained wealth and competitiveness by commodifying natural resources. Today, the consequences of our economic actions are clear and formidable. However, the path to prosperity is also evident, and it lies in sustainability. Within this new global context, the rules for competitiveness have changed and new principles are needed to succeed.
As the workshop came to a close, we gave participants an assignment: how can they employ Ecological Footprint thinking to ensure long term success within their sectors? We encouraged them to continue the discussion outside of our office, and later learned that indeed they talked about the lessons and insights they gained from our workshop throughout the rest of the evening.