The Holidays are a time to express gratitude for the ones we hold dear. We often show our appreciation through the act of gift giving, a special tradition that highlights the value of selflessness. However, as all Footprint Champions know, the pressure to find that perfect gift also puts pressure on our planet's ecosystems.
Waste comes in many forms, including food, plastic, and other types of packaging—the latter being a significant form of waste during the Holidays. Last year, Britons created 5 million tonnes of holiday-related waste. In the United States, the amount of waste generated around the Holidays is 25% higher than the rest of the year. To help curb trends like these, we've put together 5 tips to help you keep a Footprint-friendly lifestyle throughout this Holiday Season.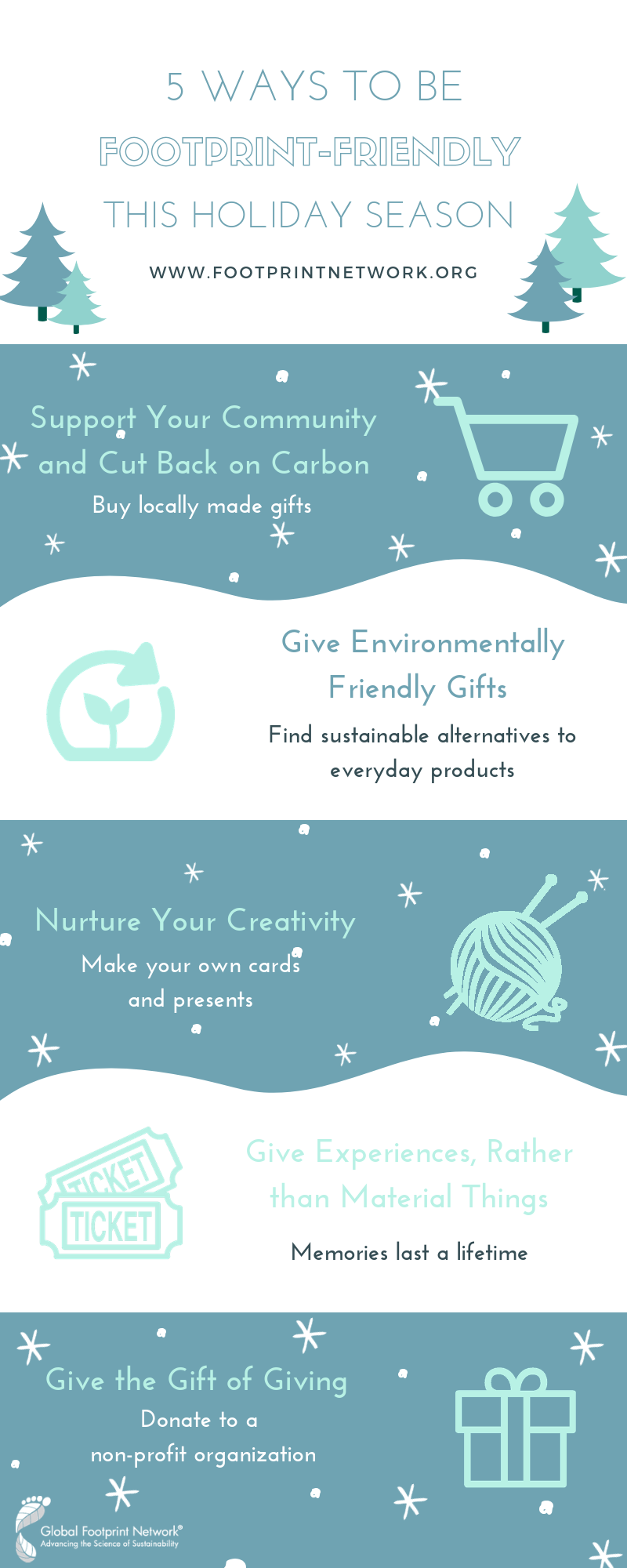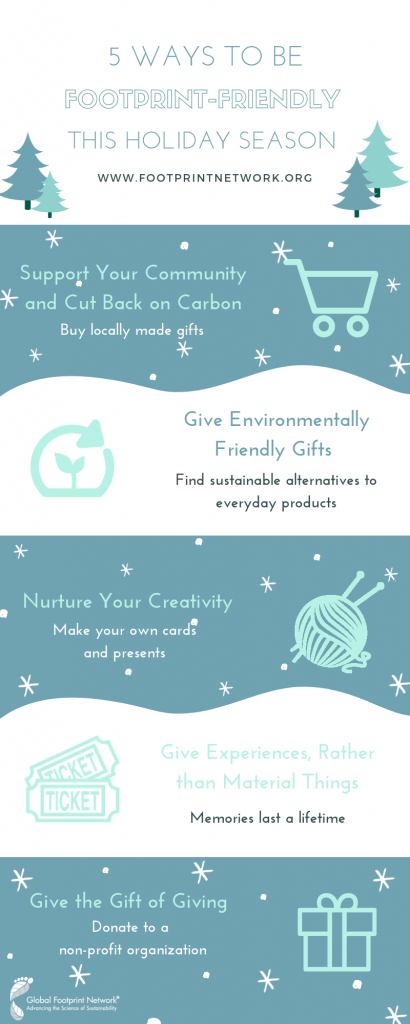 Support your community and cut back on carbon
If you want to purchase a gift, consider buying items that are made in your community with materials that are locally sourced. A good place to find these are at a local holiday market. Not only will your money be reinvested in your community, but you'll also reduce packaging and the emissions associated with online shopping.
Give environmentally friendly gifts
Our partners at EcoInspo have researched and curated a set of amazing gifts that are zero-waste, re-usable, and plastic-free. It's a triple win—your friends and family receive sustainable alternatives to everyday items, you support eco-friendly businesses, and on top of saying goodbye to plastic wrap, 10% of all proceeds go to Global Footprint Network. They can only ship to the US right now.
Nurture your creativity
Make your own cards and presents. Bake, build, knit, draw or paint your way to a creative gift and a happy Footprint.
Give experiences, rather than material things
Feel like you already have too much stuff? Chances are your loved ones feel the same. Opt for giving an experience like a ticket for a show, a museum membership, or a National Parks pass.
Give the gift of giving
Volunteer in your community or donate to your favorite non-profit organization.
You don't have to be a Grinch to be a Footprint Champion. On the contrary, it's about celebrating the elements that bring beauty and joy to life, like your talents and passions, the vibrancy of your city, spending time in nature, and giving thanks to the people with whom you share your life. In the end, having a Footprint-conscious holiday season is about encouraging traditions and values that are rooted in gratitude, both for our loved ones and for the planet. What new traditions will you create this year?