Is your company set up to support humanity's long-term success on our finite planet?
a webinar presented in partnership with


Monday, April 13, 2020, 3pm ET/12pm PT
Watch the event recording

In 2019, Schneider Electric and Global Footprint Network teamed up to invite business leaders to assess how one-planet compatible strategies can deliver differentiation and value in the market. One-planet compatible companies are those companies whose goods and services contribute to humanity's ability to live within the means of planet Earth, which includes combating climate change. These are the companies that contribute to one-planet prosperity.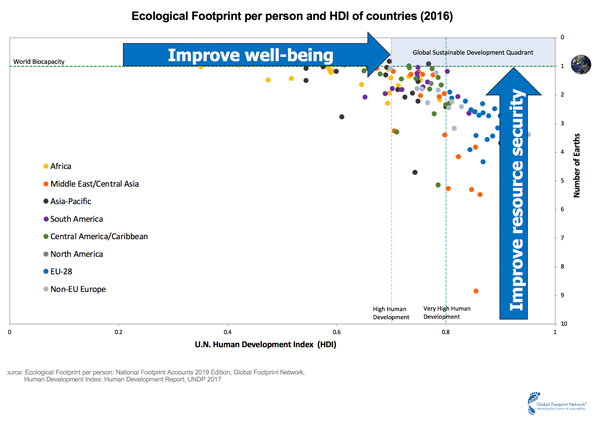 One-planet prosperity provides a simple compass to assess companies' strategies: "Do our products and services help humanity operate within the constraints of our planet's natural resources?" Those companies whose business models increase human well-being while also increasing its resource security are much more likely to be economically successful in the long-run than those companies that are incompatible with one-planet prosperity. The latter will inevitably face shrinking demand and increasing risks.
Come to this webinar prepared to ask questions relevant to your business.
SPEAKERS

Mathis Wackernagel, Ph.D.
Founder, President, Global Footprint Network
Co-creator of the Ecological Footprint accounting methodology, Mathis has worked with governments, corporations, and NGOs on six continents and has lectured at more than a hundred universities.
He has authored and contributed to more than 100 peer-reviewed papers, as well as articles, reports, and various books on sustainability that focus on embracing resource limits and developing metrics for sustainability, including Our Ecological Footprint: Managing our Biocapacity Budget  (2019) and WWF International's biennial Living Planet Reports.
Mathis has earned multiple awards, including the 2018 World Sustainability Award, 2015 IAIA Global Environment Award, 2012 Blue Planet Prize, 2012 Kenneth E. Boulding Memorial Award of the International Society for Ecological Economics, 2007 Skoll Award for Social Entrepreneurship, 2005 Herman Daly Award of the U.S. Society for Ecological Economics, and more.
Mathis completed a Ph.D. in community and regional planning with Prof. William Rees at the University of British Columbia, where his doctoral dissertation developed the Ecological Footprint concept. He also earned a mechanical engineering degree from the Swiss Federal Institute of Technology.
Kevin Self
Senior Vice President, Strategy, Business Development & Government Affairs, Schneider Electric

As a member of Schneider Electric's North America Leadership Team, Kevin is responsible for leading development of the North America strategy that aligns with Schneider Electric's "Energy Management & Automation" growth aspirations.
Kevin's responsibilities include leading North America's overall strategy development process; identifying new opportunities for growth; and developing & driving policy and influencing outcomes at the state and federal levels.
Kevin serves on the boards of The Alliance to Save Energy (www.ase.org), The Advanced Energy Economy (www.aee.net), The University of Michigan's Energy Institute and Erb Institute, and Northwestern University's Institute for Sustainability & Energy.
Kevin previously held Strategy & Corporate Development roles with Johnson Controls' Building Efficiency Business, Miller Brewing Company, GE Healthcare, and McKinsey & Company. Kevin holds an MBA from Northwestern University, and MS and BS degrees in engineering from The University of Michigan.
MORE INFO

About Global Footprint Network
Global Footprint Network, who pioneered the Ecological Footprint accounting, is an international sustainability organisation that is helping the world live within the Earth's means and respond to climate change. Since 2003 we've engaged with more than 50 countries, 30 cities, and 70 global partners to deliver scientific insights that have driven high-impact policy and investment decisions. Since decisions shape the future, we are influencing decision-making so all can thrive within the means of our one planet. www.footprintnetwork.org
About Schneider Electric
Schneider Electric is the global specialist in energy management and automation. With revenues of €27.2 billion in FY2019, our 155,000 employees serve customers in over 100 countries, helping them to manage their energy and process in ways that are safe, reliable, efficient and sustainable. From the simplest of switches to complex operational systems, our technology, software and services improve the way our customers manage and automate their operations. Our connected technologies reshape industries, transform cities and enrich lives. At Schneider Electric, we call this Life Is On. www.schneider‑electric.com