ENDORSEMENTS FOR THE NEW BOOK
Ecological Footprint:
Managing Our Biocapacity Budget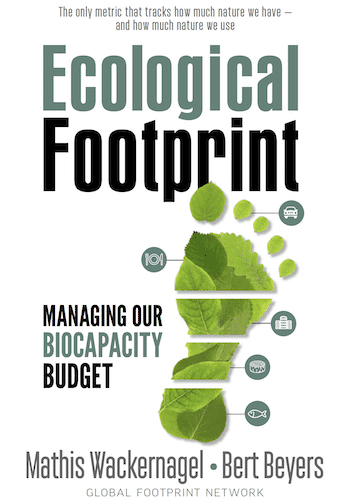 How much of the Earth's biocapacity are humans using? Before the Ecological Footprint, no one knew for sure. Now, we have the equivalent of an instrument panel. This is a momentous development, and one that all citizens of the planet should know about — because the warning lights are flashing red. — Richard Heinberg, Senior Fellow, Post Carbon Institute, author of The End of Growth and Peak Everything
This excellent book helps us understand and truly appreciate Nature's capacity to continue to provide life support for our planet and for all of its inhabitants. — Julia Marton-Lefèvre, Former Director General, International Union of Conservation of Nature
The great challenge for humanity in the 21st century is not to stop the growth of the economy, but to stop the growth in the human ecological footprint — and eventually bring it back to one planet. This important book by the inventors of the concept explains why and how. — Prof. Jorgen Randers, former President of the BI Norwegian Business School, coauthor of The Limits to Growth, author of 2052 — A Global Forecast for the Next Forty Years
If we did to our bank account what we have been doing to the Earth's natural capital we would have been bankrupt long ago. The planet has been extremely lenient with us but that resilience is about to give way to a natural and human crisis. This book is a loud wake up call to everyone. — Christiana Figueres, former Executive Secretary, UNFCCC
In the nick of time, as humanity crashes up against the resource Limitations of our collective twenty first century lifestyles, Ecological Footprint provides a clear eyed and accessible analysis of the challenge. With clarity and compassion, Ecological Footprint reveals both our alarming self-inflicted situation and the way forward. Wackernagel and Beyers' well written book has the power to turn the tide. — Thomas E. Lovejoy, Professor of Environmental Science and Policy, Institute for a Sustainable Earth George Mason University
A superb treatment of Ecological Footprint accounting as a part of our global balance sheet. Regardless of whether you are a student, a teacher, or an economist, you will find much of substantial importance in this book. — Peter H. Raven, President Emeritus, Missouri Botanical Garden, St. Louis
Looking for a science based practical tool to navigate your future on Earth? Here it is. Ecological Footprint provides an integrated and concrete measure of our human pressure on the Planet. We all urgently need to reconnect our lives to planet Earth and adopt a biocapacity approach to modern life, translating it into concrete steps of how each and every one of us can contribute to building resilient and sustainable societies. — Prof. Johan Rockström, Director of the Potsdam Institute for Climate Impact Research
Human societies live — and die — by cultural myths including the Catastrophic modern myth of perpetual economic growth. With their update of the Ecological Footprint, Wackernagel and Beyers wield the most effective myth-busting tool available. Failure to read this book should disqualify any would-be elected official from running for office. — William Rees is a human ecologist, ecological economist and former Director of UBC's School of Community and Regional Planning in Vancouver. He co-developed the ecological footprint with Mathis Wackernagel.
At a time when we must find ways to urgently respond to the Existential threats of climate change and ecosystems extinction, this book systematically lays before us the accounting metric Necessary to evaluate a world in overshoot. Almost 50 years ago two of the "Limits to Growth" scenarios predicted global system "overshoot and collapse" by the mid- to latter-part of the 21st century. Today ecological footprinting, if adopted by governments and business leaders, alongside comparable planetary solutions, could help navigate our emergence from emergency. — Sandrine Dixson-Declève , Co-President, The Club of Rome
For more about the book, click here.