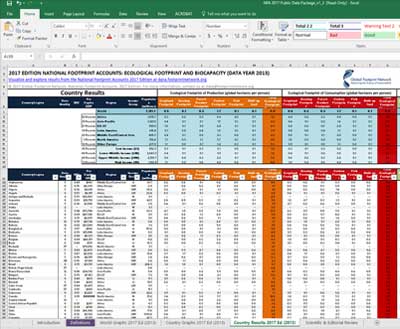 This page allows you to download the National Footprint and Biocapacity Accounts 2019 Public Data Package for free.
Global Footprint Network's National Footprint and Biocapacity Accounts 2019 Public Data Package is provided for download at no charge to academics, educators, NGOs, the media, and private and public analysts, as long as they register and clearly indicate and acknowledge the source in every public use of the data. Our data also can be accessed and downloaded in other forms through our Ecological Footprint Explorer open data platform, at data.footprintnetwork.org. Advanced data users can download our data at data.world/footprint.
The Public Data Package is a fabulous sortable and searchable resource, filled with the latest Footprint and biocapacity results. It contains the following:
2016 Ecological Footprint and biocapacity results for all countries included in National Footprint and Biocapacity Accounts 2019 Edition
Graphics of time-trend (1961-2016) of Ecological Footprint and biocapacity results for each country
Global Footprint and biocapacity time series results and graphs (global overshoot, Human Development Index-Footprint graph, and ecological deficit/reserve map)
List of data quality scores for each country
Calculation factors
Scientific and Editorial Review Policy
License Details
This work is licensed under a Creative Commons Attribution-ShareAlike 4.0 International License.
Should you have any questions about this license, or if you would like to use more complete data sets, please contact us.
To receive a download link, please complete the following form. All fields on this form with an asterisk (*) are needed to submit. Within seconds of submission, you should get a confirmation email with a link.
Note: If you do not receive a confirmation, please try a different web browser. Explorer and FireFox have been more reliable, try to avoid Chrome for this task. If it still does not work, please contact us and put data download problem in the subject heading.
Troubleshooting Tips

We understand it can be frustrating when the data download doesn't work correctly. We're offering these tips to help you troubleshoot the process.
Did you receive the "email confirmation link has expired" error message?
The link in the email is no longer active after you click and download the file once.
Search your computer for a zipped file named "2019 Public Data Package" as it may have auto saved in a downloads or temporary file folder or other unexpected location.
Submit a new request form in order to receive a new link to download the data.