This July, Global Footprint Network was fortunate to host government representatives from Nariño, Colombia, for a two-week work session at our offices in Oakland in support of their effort to transform their province into a green economy.
After decades of civil war, peace agreements between the Colombian government and the FARC (recently renamed Common Alternative Revolutionary Force) have opened up new possibilities, and Nariño is eager to build a new future based on their strengths, including its ecological advantages. Under the leadership of Gov. Camilo Romero Galeano (who is also Colombia's Green Alliance Party co-president), Nariño is positioned to be at the forefront of a new green economy in Colombia.
The subsecretary of Environmental Management and Green Growth of Nariño, Ricardo Mora, reached out to Global Footprint Network for technical support about using the Ecological Footprint and other sustainability metrics to advance strategic initiatives in the Nariño province. Global Footprint Network staff are working in close partnership with Nariño representatives to help them capitalize on the momentum of these historic events.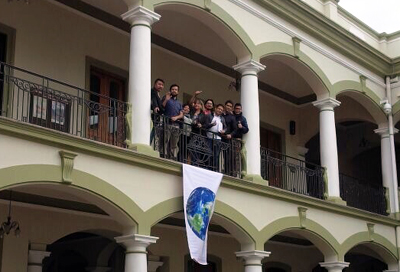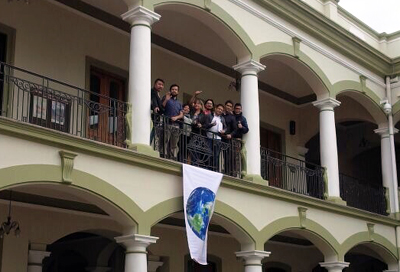 On Earth Overshoot Day, the Secretariat of Environment and Sustainable Development in Nariño, Ramiro Estacio, joined us along with organizations around the world to call for the reduction of indiscriminate use of natural resources. Mora also underscored our joint efforts, saying, "[the MOU with Global Footprint Network] isn't simply to carry out scientific studies on Nariño's Ecological Footprint and biocapacity, but also to direct our province with concrete actions on how to build a green economy that takes ecological limits into account and move back the date of Earth Overshoot Day, so that our actions with natural resources in the region are sustainable." Our Nariño colleagues also hung a banner of the Earth in honor of Overshoot Day (pictured right).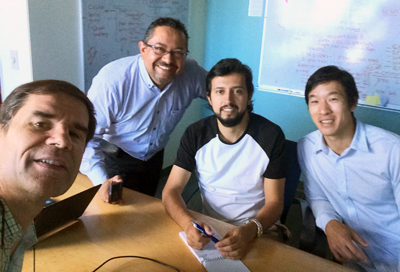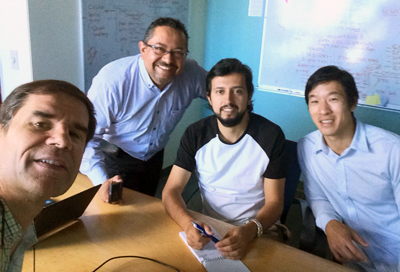 Just a month earlier, Mora and Dr. Ivan Felipe Benavides, scientific adviser for the Environment and Sustainable Development Office at Nariño, spent two weeks in our Oakland offices participating in lectures, exercises, and discussion, starting with underlying major concepts of sustainability and their critical role as part of larger frameworks for monitoring and achieving societal well-being.
Natural scientists by training, Mora and Benavides quickly drilled down to the scientific theory and technical details of sub-national Ecological Footprint assessments, including National Footprint Accounts, input-output analysis, and bottom up-top down approaches to Footprint accounting. By the end, our colleagues had developed a game plan to apply a sustainability monitoring framework for the transformation of Nariño to a green economy.
"The math and the essentials of the Ecological Footprint are very simple to understand, and the calculations very straightforward. It's all about understanding that the capacity of our planet to produce ecological assets (biocapacity) does not have an infinite growth as our current economic system seems to assume, but its rather a cycle with spatial and temporal limits," said Benavides. "However our greater challenge is to take this information available to our people and translate it into strategic actions to live well, within these limits. We want people in Nariño to live great lives with the big ecological power that we have."
During their stay, Mora and Benavides also taught us much about their work laying a foundation for a thriving green economy, and of Nariño's incredible natural wealth. Located in southwestern Colombia, their province has extraordinary natural beauty and is a biological hot spot–home to more than 5,000 species of plants and animals. Over the next year of partnership, we will deepen our collaboration, including Global Footprint Network staff supporting Nariño staff on the ground, where we will also be able to witness the beauty of the province first hand, as well as the inspiring transformation of a war-torn region into a leading green economy.