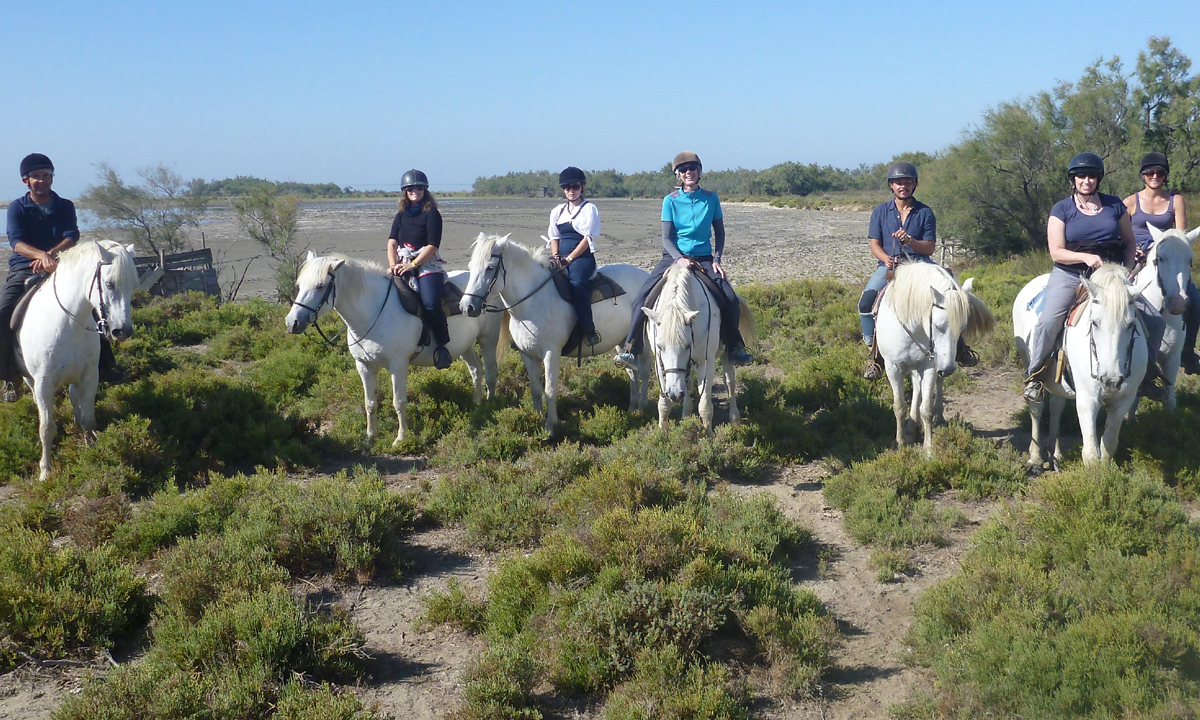 Riding horses in Camargue, France
OAKLAND, CA, USA — OCTOBER 22, 2019 — Protected Areas and tour operators can now use an industry-specific online calculator to assess and manage the Ecological Footprint of ecotourism packages. Unveiled today at an event in Rome, the Ecotourism Footprint Calculator was developed by the DestiMED Project consortium, building on Global Footprint Network's data and methodology.
For two decades, Global Footprint Network has been providing annual metrics on natural resource demand and availability (National Footprint & Biocapacity Accounts.) Its personal Ecological Footprint calculator has been used by more than 14 million people worldwide since it launched in 2007.
"We always say that we can't manage what we can't measure. We are happy to bring our natural resource accounting approach to the tourism industry, with a view to empowering managers of Protected Areas, in particular, to support the conservation of natural ecosystems via sustainably unlocking their economic value" said Alessandro Galli, Director Mediterranean and MENA Region at Global Footprint Network.
Food and beverages
The DestiMED Project was funded by the European Regional Development Fund through the InterregMED programme. Together with project partners, Global Footprint Network's team adapted the Ecological Footprint methodology to assess the environmental impact of pilot ecotourism packages in 13 Mediterranean protected areas. Specific components taken into consideration are listed in four categories: meals, accommodations, transports, and activities. Results from the monitoring phase indicate that food and beverages have the strongest ecological impact, especially in those packages that are highly reliant on fish and meat products.
This assessment focuses on tourists' Ecological Footprint during their stay. To evaluate the Footprint of travel options to and from the tourist destination, people can consult the personal Footprint Calculator.
"DestiMED's Ecological Footprint methodology helped both managers of protected areas and tour operators involved in the project understand where their packages are excelling and where there is room for improvement. Moreover, new business opportunities that support local sustainable development were identified", pointed out Carla Danelutti, DestiMED project coordinator for IUCN Centre for Mediterranean Cooperation (IUCN-Med).
Available online, the free Ecotourism Footprint Calculator is not just an awareness building or education tool. It is first and foremost a software application designed to help ecotourism professionals shape high-quality offerings with a low Footprint. The options made available to users are specifically tailored for Protected Areas.
Proof of concept to be expanded
"With this project, we focused on developing a proof of concept with ecotourism as the obvious target. Going forward, sustainability in tourism cannot be confined to the ecotourism niche, however, and will need to be expanded to the whole tourism industry," Alessandro Galli said.
The Ecotourism Footprint Calculator is hosted and managed by the MEET Network, an association of Mediterranean protected areas developing high-quality ecotourism products that benefit conservation.
The Ecotourism Footprint Calculator and the main outcomes of DestiMED are unveiled today and tomorrow in Rome in the presence of all partners: Lazio Region (leading partner, Italy), Federparchi Association (Italy), MedPAN Network (France), the National Agency for Protected Areas (NAPA, Albania), WWF Adria (Croatia), WWF Mediterranean, and IUCN Med (International Union for Conservation of Nature Center for Mediterranean Cooperation).
Additional resources
October 22-23 final DestiMED Project event
Ecotourism Footprint Calculator
DestiMED Footprint methodology
Footprint Explorer (open data platform with Footprint and biocapacity data on all countries)
About the Ecological Footprint
The Ecological Footprint is the most comprehensive biological resource accounting metric available. It adds up all of people's competing demands for biologically productive areas – food, timber, fibers, carbon sequestration, and accommodation of infrastructure. Currently, carbon emissions from burning fossil fuel make up 60 percent of humanity's Ecological Footprint.
The book "Ecological Footprint: Managing Our Biocapacity Budget," published last month, provides an in-depth introduction, drawing on the Footprint's 30-year experience fighting ecological bankruptcy with robust resource accounting. Excerpts available for publication.
About Global Footprint Network
Global Footprint Network is an international sustainability organization that is helping the world live within the Earth's means and respond to climate change. Since 2003 we've engaged with more than 50 countries, 30 cities, and 70 global partners to deliver scientific insights that have driven high-impact policy and investment decisions. Together, we're creating a future where all of us can thrive within the limits of our one planet.
www.footprintnetwork.org
Media contacts