Calgary, the largest city in Alberta, Canada, was the first city to develop specific Ecological Footprint reduction targets. With a population of nearly 1.2 million, Calgary is located in the southern part of Alberta, nestled in the foothills of the Rocky Mountains at the confluence of the Bow and the Elbow Rivers.
In 2005, Calgary participated in one of the first Ecological Footprint studies focused at the municipal level, in collaboration with Global Footprint Network. The analysis found that Calgary's per capita Footprint exceeded the Canadian average by more than 30 percent, at 9.8 global hectares per person. If everyone on earth had the same Ecological Footprint as the average Calgary resident, we would need five Earths to maintain that level of resource consumption.
As a result, reducing Calgary's Ecological Footprint was selected as one of 114 targets that were set as part of imagineCALGARY, the City of Calgary's 100-year sustainability vision. Calgary aims to reduce its Footprint to the national average of 7.25 global hectares per person by 2036.
To date, Calgary has applied Ecological Footprint analysis to the development of 14 land-use plans, including a proposed downtown redevelopment plan, which compared four development scenarios. Calgary's Ecological Footprint analysis demonstrated that mobility is the greatest challenge and highlighted the need for a multi-modal transportation system and improved jobs-to-housing balance to reduce the Ecological Footprint.
"Footprint analysis is an effective tool to help those involved in preparing plans to communicate the link between local awareness and global impact and strengthens Calgary's ability to make the connection between policy commitments and sustainable development."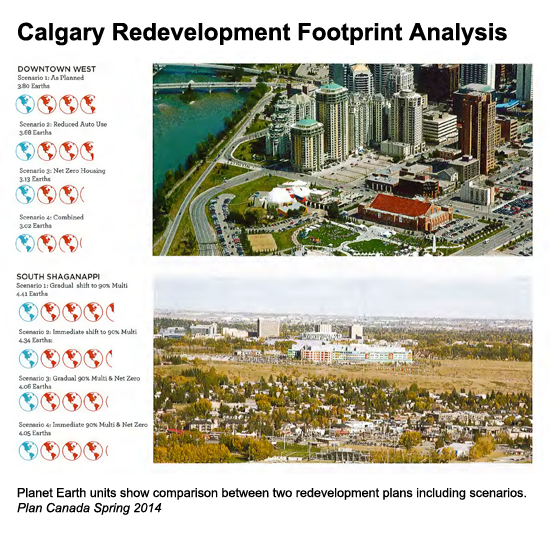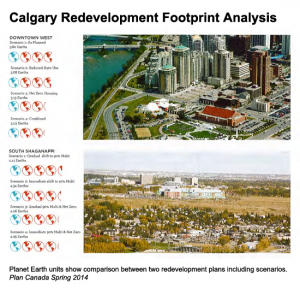 In 2011, the city of Calgary adopted the Calgary Community Greenhouse Gas Reduction Plan, which commits the city to parallel greenhouse gas reduction targets at the community level. The plan identifies actions to reduce city-wide emissions from buildings, transportation, and waste.
Other work highlighting Calgary's use of the Ecological Footprint as a tool to assess environment performance includes:
• The development of a personal Ecological Footprint calculator for Calgary residents, created in collaboration with Global Footprint Network.
• A collaborative roundtable discussion and a concluding report titled "Charting Calgary's Low-Carbon Future Outcomes" (2009).
• Reporting on Ecological Footprint metrics in the city of Calgary's State of Environment Report (1998 – 2010).
• Reporting on Ecological Footprint metrics in the imagineCALGARY Report on the Natural Environment (2014), which was used as an engagement tool to generate priority indicators for the natural environment.
• Reporting on Calgary's approach for incorporating Ecological Footprint into land-use planning decision-making in various journals, presentations and articles.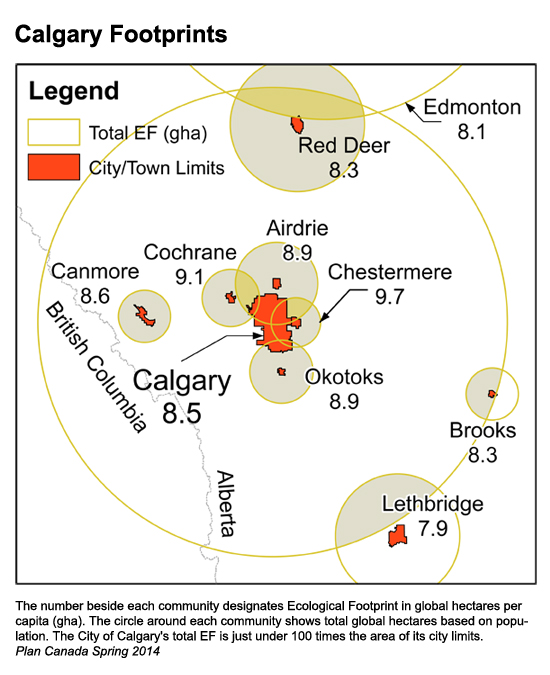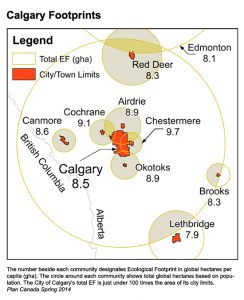 Additional Resources
How green is your city: towards an index of urban sustainability, The Conversation, 2015.
"How Many Planets?" Plan Canada, Spring 2014, by Les Kuzyk, Planning Analyst, and Matt Rockley, City Planner, City of Calgary.
"Ecological Footprint and Land Use Scenarios," Calgary, Canada, by City of Calgary Land Use Planning & Policy.
Toward a Preferred Future: Understanding Calgary's Ecological Footprint, The City of Calgary, 2007.
"The ecological footprint housing component: A geographic information system analysis," Ecological Indicators, May 2012, by Les Kuzyk, Planning Analyst, City of Calgary.
"Ecological and carbon footprint by consumption and income in GIS: down to a census village scale," Local Environment: The International Journal of Justice and Sustainability, November 2011, by Les Kuzyk, Planning Analyst, City of Calgary.