When Global Footprint Network reported that the United Arab Emirates was the country with the largest per capita Ecological Footprint in the world (at almost 12 global hectares, Living Planet Report 2006), government leaders were determined to learn why. The government launched the Al Basma Al Beeiya (the Ecological Footprint) Initiative in 2007 to understand the numbers and methodology behind the ranking and began a multi-stakeholder collaboration involving Global Footprint Network that continues today. The initiative is currently a partnership between the Ministry of Environment and Water, the Environment Agency Abu Dhabi, Emirates Authority for Standardization and Metrology, Emirates Wildlife Society-World Wildlife Fund and Global Footprint Network with the following mission: "to ensure a sustainable future by measuring and understanding the impact of our ways of living on planet Earth." [caption id="attachment_6732" align="alignright" width="300"]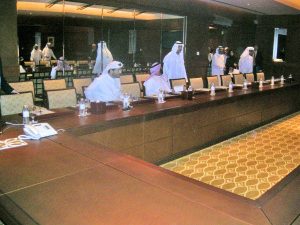 High-level meeting with representation from Dubai, Sharjah, Ras Al Khaimah, Abu Dhabi, WWF and Global Footprint Network (2007, UAE)[/caption] The launch of the Ecological Footprint Initiative set the UAE on a course to becoming the third country in the world, after Switzerland and Japan, to conduct in-depth research on its Ecological Footprint. Today the UAE initiative stands as an exemplary model for nations in using the Ecological Footprint to measure consumption patterns and guide the development of effective policies that will lead to real Footprint reductions. Some of the world's most advanced Ecological Footprint research and most innovative Footprint-based awareness campaigns have been launched in the UAE, with support from the highest levels of government.
"The United Arab Emirates, with its rapidly expanding economy, has also become increasingly resource dependent. This is why we have developed a close collaboration with Global Footprint Network: To better understand our Ecological Footprint and biocapacity trends and the challenges we face. This collaboration has helped us foster more effective relationships between ministries, and helped us make sustainable investments. Our goal is to secure great lives for all. To succeed in this goal requires living within the means of nature."
New Energy Standards

One of the most recent outcomes from Global Footprint Network's collaboration with the UAE is the approval of a new energy efficiency lighting regulation in October 2013 by Sheikh Al Maktoum, the Prime Minister of the UAE. "The new lighting standard will reduce the country's energy consumption by 340 to 500 megawatts per year, which is equivalent to not using an average gas power station for six months," said Rashid Bin Fahed, former Minister of Environment and Water.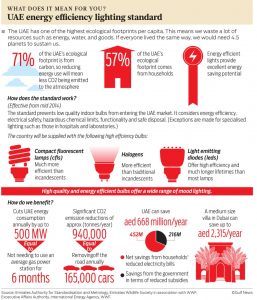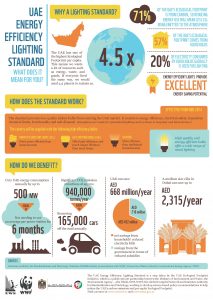 "This important achievement came as a result of the strong collaboration of all partners of the Ecological Footprint Initiative," said H.E. Razan Al Mubarak, Secretary-General of Environment Agency—Abu Dhabi (EAD) in an article on the new lighting standard.
Heroes of the UAE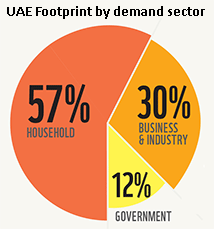 A key finding of the Ecological Footprint Initiative was that the household sector is the main contributor to the UAE's Ecological Footprint, at 57 percent. These findings were applied to the development of a sustainable lifestyles campaign known as "Heroes of the UAE," in which households were educated on ways to reduce their Footprints primarily through reducing energy and water consumption. The Heroes of the UAE campaign, along with the Ecological Footprint Initiative, also developed a "lead-by-example" program aimed at motivating government agencies to conduct "green makeovers" for their offices. The program included workshops on the underlying environmental issues to ensure that staff members were actively engaged in reducing their Ecological Footprints. The first case study was completed in April 2010 for the Ministry of Environment and Water offices. The building underwent technical changes predicted to reduce its water consumption by 44 percent and its carbon Footprint associated with energy consumption by up to 24 percent. From 2009 to 2010, researchers from EWS-WWF and the Masdar Institute, with technical work supported by Global Footprint Network, coordinated development scenarios to track how the inter-related water and electricity sectors might affect Abu Dhabi's carbon dioxide emissions and the UAE's per capita Ecological Footprint up to 2030. These scenarios assessed the impacts of increasing renewable energy use, more energy- and water-efficient equipment, and green building codes to de-carbonize the power and water sector: If the most ambitious measures were implemented in Abu Dhabi alone, by 2030 the Emirate's CO2 emissions could be reduced by up to 40 percent and the UAE's overall per capita Footprint could be reduced by 1 global hectare per person.
New Statistics Bureau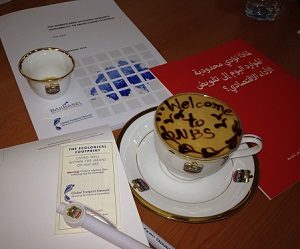 The Footprint Initiative highlighted the urgent need for a UAE agency that could be identified nationally and internationally as the official source of UAE data and statistics. In response to the Footprint Initiative's recommendation for such an agency, the UAE National Bureau of Statistics (NBS) was created in 2009. Its mission: to provide "up-to-date, high quality statistical data and information, which contribute in decision making, policy design and performance evaluation."
Latest Work
Since 2013, Global Footprint Network has continued working with the UAE EFI on addressing data challenges and mobilizing the expertise of key stakeholders. In November 2014, Global Footprint Network and Emirates Wildlife Society organized a technical workshop for key data stakeholders in the UAE. Hosted by the National Bureau of Statistics in its headquarters, the workshop featured a discussion of data collection and reporting systems and data integrity issues that impact accurate, reliable and robust Footprint calculations in the UAE. In 2016, Global Footprint Network assisted in another verification project to improve calculations given the inconsistency between national and UN statistics for the UAE.
Video
[sw_media_embed aspect_ratio="16by9" max_width="100%"]https://www.youtube.com/watch?v=nP1nzCqoT9g&feature=youtu.be&list=PL949CA637ABEC09A2[/sw_media_embed] Watch a video in English or Arabic from Emirates Wildlife Society—WWF that tells a colorful story about the effects of excessive resource consumption.
Report
Ecological Footprint Initiative Summary Report 2007-2010
Additional Resources

"Envisioning a Low Footprint Future for UAE," newsletter feature story, 2009. "UAE introduces indoor lighting standard: good for environment and good for economy," WWF article on UAE lighting standard, 2014. http://uae.panda.org/ews_wwf: WWF—UAE website.