In December 2006, Switzerland became the first country in the world to complete a review of its National Footprint Accounts. The government published the review as a report titled Switzerland's Ecological Footprint—A Contribution to the Sustainability Debate. INFRAS, a leading Swiss policy research institute that wrote the report, compared the international data sources used by Global Footprint Network to the statistics used by the Swiss Federal Statistical Office, and concluded that the data sets are largely consistent.
The Ecological Footprint went on to become an official indicator in Switzerland's sustainable development monitoring system in 2008, and is published annually by the Swiss Federal Statistical Office. The Federal Office of Spatial Development and the Statistical Office used the Footprint in the Swiss government's "Sustainable Development Report 2012" launched at Rio+20 (page 54).
In 2014, BakBasel and Global Footprint Network were invited by the Swiss government to explore The Significance of Global Resource Availability to Swiss Competitiveness, which was presented in a report of the same name and is available in English (3 MB),  German (3 MB) and French (3 MB). It was the focus of the Swiss Sustainable Development Dialogues in 2014 (with all the presentations available in French or German).
In the fall 2016, Switzerland made history as the first country to vote on whether to implement a green economy into its constitution, with the goal of living within the means of one planet by 2050, based on Ecological Footprint accounting. 36% of the voters were in favor.
To advance this conversation, Global Footprint Network invited Switzerland with a proposal "Watch Out, dear Switzerland" that outlines how Switzerland could tackle its growing resource fragility.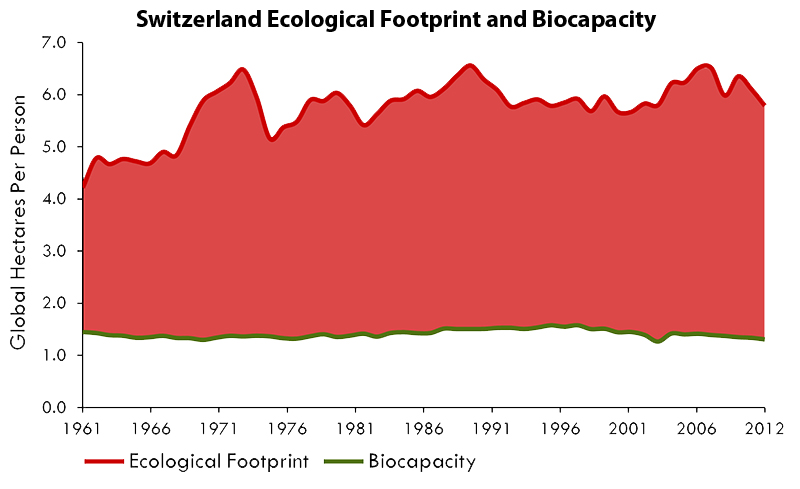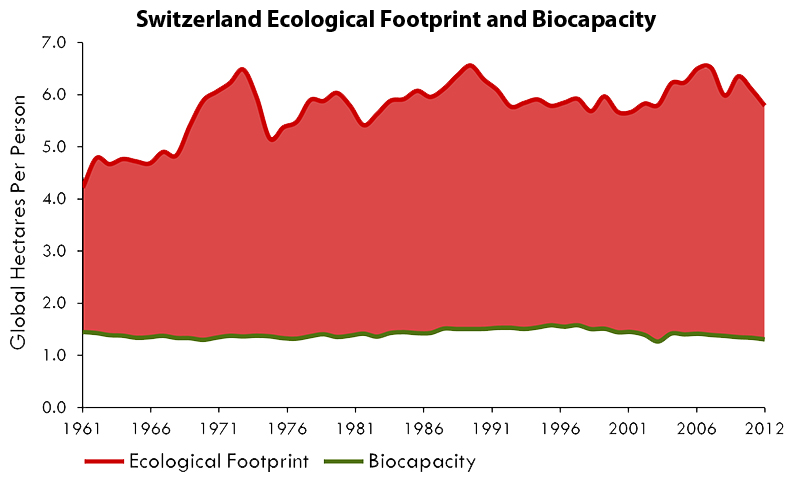 "I strongly commend Global Footprint Network for advancing such a comprehensive resource accounting system. This tool is critical for building a sustainable and prosperous future"
MAYA GRAF, Former President, National Council of Switzerland
Additional Resources
achtung-schweiz.org: Global Footprint Network's proposal for a resource secure Switzerland
Blog Post: How Switzerland made history with green economy vote
Switzerland's ecological footprint, Swiss Federal Statistical Office
Switzerland's ecological footprint: A contribution to the sustainability debate, Federal Office for Spatial Development / Swiss Agency for Development and Cooperation / Federal Statistical Office / Federal Office for the Environment, 2006